Pioneers of Northwest Diving
Throughout our region there are a few diving legends. These are people that you know, or have heard about in the diving industry. There are also many diving pioneers that have not gained notoriety in the industry, however their contributions to the diving community have been invaluable. We'll publish the stories and achievements of the Legends and the many other diving pioneers as well.
It will be interesting to learn about some of the scientific diving that has been conducted in the rivers, lakes and the ocean. We'll share how some new equipment was developed and who worked on those projects.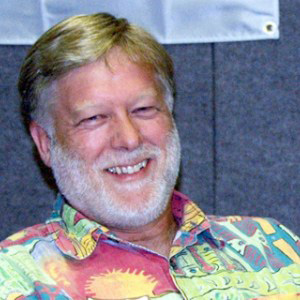 Tory Van Dyke
My name is Tory van Dyke. I began SCUBA diving at the early age of 17 years old. I always wanted to be a diver, from my earliest childhood recollections of watching the fictional Mike Nelson character and "Sea Hunt" on TV in the fifties and sixties. My dad, Kenny van Dyke, had a small dive shop operation that he ran out of his Mountain Shop ski shop in Portland, Oregon, during the summer months. Although he didn't sell any diving equipment to his students, I sure enjoyed looking through the Skin Diver magazines and checking out all that brand new dive gear on display at the shop.
The brand new galvanized steel diving tanks, double hose Aqualung regulators, face masks, duck feet swim fins, spear guns, and diving knives sure looked good to me and made a lasting impression in my young mind! This early inspiration, when I was just eight years old, further fueled my desire to become a SCUBA diver and an undersea explorer.
I worked busing and washing dishes at The Harvest House Restaurant just down the road from my neighborhood in Portland, Oregon. My next-door neighbor, Mike Heffernan, owned the restaurant, so it was a natural for me to go to work there and make some money. As I put in my hours and the money began to accumulate, I began thinking about taking a course in SCUBA diving. My old friend and former next-door neighbor, Mark McCarty, had taken a certification course through his high school a few years earlier. He helped me to find a good dive shop to take my classes.
I signed up for classes at the Aquarius Underwater Center, on Barber Boulevard in Southwest Portland. The shop's owner was Gary Rubottom. The facility offered a certification course in basic SCUBA diving for around 50 bucks. The certification was with N.A.U.I., the National Association of Underwater Instructors. Mark had taken his course from a NAUI instructor down in Eugene, Oregon, and he recommended NAUI as the best certification agency. N.A.U.I. was known throughout the diving industry for its high standards and excellence in diver education.
I signed up for the course a little before Christmas in December of 1971. The course was going to be six weeks long, with one classroom and pool session a week. Aquarius Underwater Center was a new brand new facility, complete with a special indoor heated swimming pool at the shop. The pool had been built specifically for basic SCUBA diving instruction. It had a special four-foot deep ledge, about five feet wide, on one side of the pool, running the full length of the pool. This area was for suiting up with the gear, and then sitting underwater on the ledge with your feet hanging over the edge. Your instructor would observe and instruct you from the deeper water in the pool. Everything was tailored for beginning SCUBA diving instruction, and this made it very safe and comfortable for introducing new people to the underwater equipment used in SCUBA diving.
My instructor for this course was a man named Tom Hemphill. He was a welder by trade, and worked as a diving instructor part time, sort of moonlighting for extra money. Tom loved diving and had started out diving about ten years before this time. He had received his underwater instructor certification from NAUI in 1971. Tom and I became good friends and we have maintained our friendship throughout these many years.
Mark helped me select some basic diving equipment, like a mask and some fins and a snorkel. I also got some wet suit boots and mitts. Later I got a US Divers Calypso III single hose regulator. I still use this regulator today. It has been a real workhorse and a very reliable piece of equipment. I have overhauled it about three times, replacing essential o-ring seals and high-pressure seats and diaphragms. Mark had a US Divers 'Nav-Con' single hose regulator that he had used for his training in open water. He eventually gave this regulator to me, and I still use it as a backup on dive jobs.
So, I completed my basic instruction course and had all my own diving equipment fully paid for prior to my open water check out dives. I even had enough money to cover the motel bill and meals for the weekend of open water training, held at the Sunrise Resort Motel in Hoodsport, Washington, on the beautiful Hood Canal.
The weekend of diving went very well. The weather on Saturday was cold and stormy, with lots of wind and rain. Sunday cleared up and greeted us with lots of sunshine, blue sky, and warmer air temperatures.
Tom and his diving assistant, Bob Harms, both spent a lot of time in the water on Saturday, checking out everyone in the class on their basic open water skills. These two guys were both in custom tailored, nylon two style, Harvey's built Wetsuits, and they both got very cold in the mid-February 48 degree salt water of Hood Canal. They probably spent more than four hours in the water that day, which is a long time for a wet suit equipped diver, and hypothermia took its toll on them.
The topside weather on Saturday morning was quite brisk, and the students were moved right along through their various diving skill performance tests. I think there were about 20 new divers in the group. By the time the first day's diving skills were completed, Tom and Bob were ready for hot showers, the couch and TV in their motel rooms, with lots of hot coffee and warm electric heat from the baseboard heaters.
I was raring to go night diving, and Kathy Harms, Bob's wife, was willing to be my dive buddy around 8 o'clock that night. We had a great night dive, where I tried out my brand new Darrell-Allen rechargeable diving light, with its 120,000 candle power bulb. The storm has passed and the stars were out, and the water was flat calm. It was great! I was using my brand new Harvey's stock size quarter inch thick wetsuit built in Seattle, Washington, and I wasn't one bit cold!
My tremendous enthusiasm for diving and the fulfillment of a lifelong dream kept me plenty warm in the cold North Pacific Ocean water. Also, I just made the one tank dive for about thirty minutes and got out of the water. Unlike Tom and Bob, who had so many students in the class to instruct and review, making their in-water time extensive and very cold. I guess that's the difference between paying for the experience and being paid to give the experience. I'm pretty sure that Kathy didn't get paid though.
The very next morning, my dive buddy in the class and I got up early and made a great dive under the Hoodsport Marina docks, right out in front of our Hood Canal Motel room. It was a great dive, with very clear water and lots of sunshine filtering down into the depths. Tom and Bob were somewhat surprised to learn later that we had been diving on our own already that morning. The openwater classes didn't start in the morning until 10 am, and we had already been diving down at our motel at 8 o'clock. Anyway, we ended up going on a boat dive later that day up at Pleasant Harbor, which is about twenty miles north on Highway 101 from Hoodsport. The boat was called the Doris L, owned by Tom Hink. It was a silly dive right outside the small entrance to Pleasant Harbor and around the corner, but the experience of diving off a boat was excellent. I call the dive silly because we travelled such a short distance to get to the dive site. I would later learn that boat diving was the best way to reach all the best diving sites, some of which were just around the corner from the boat harbor entrance! Boat diving is the best way for a SCUBA diver to reach the best dive sites in any given area for undersea exploration.
From this early beginning introduction to SCUBA diving, I eventually became a N.A.U.I. certified Underwater Instructor. I worked with Tom Hemphill for many years teaching SCUBA diving to many students. Tom opened his own dive shop in Vancouver, Washington, in 1974. Many hundreds of people learned how to SCUBA dive safely and enjoyably thanks to Tom's efforts and his love for SCUBA diving. I owe a debt of gratitude to Tom Hemphill and the great kindness and enthusiasm he extended to me, helping me get the right start in learning to SCUBA dive. For that I say, "Thank you very much, Tom! You did a great job!"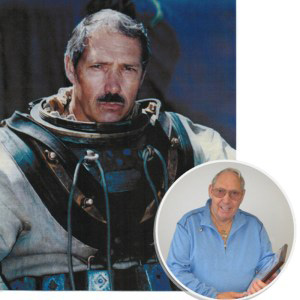 Spence Campbell
One of the Pacific Northwest's diving pioneers from the early days of Pacific Northwest Diving. A "Pioneer" is a trailblazer that has the courage to explore the unknown. Spence Campbell is certainly a diving pioneer and has blazed many trails for the rest of us to follow. Since the late 1950's, Spence has served the diving community in a variety of capacities including local diving in-structor, commercial diver, commercial diving supervisor, scientific diver, diving physiology researcher, research diver, diving educator, past president of Washington's Council of Skin-diving clubs. NAUI dive instructor – 35 years.
His trails include tackling challenges in commercial hard-hat diving on dams at high elevations that increased the risk of the bends. He developed the Virginia Mason Hospital Hyperbaric and Diving Research Laboratory program in Seattle. Years later he welcomed the challenge of developing the protocol to conduct stainless steel, wet welding in a nuclear reactor, training a team of underwater welders and led them to a successful mission inside of a nuclear reactor. Spence has lectured on many diving topics including diver reflex technique for free diving.
But that is not what defines Spence Campbell. His true value to the diving industry is his ability to educate, inspire, motivate and mentor new divers as they work their way toward the pursuits of their personal goals. Spence became my friend and mentor in 1971 as he guided me through one of the greatest challenges of my live, a NAUI Instructor Training Course. Over the years I've met many of Spence's protégés, and we all have the same respect and gratitude for the efforts that he made to push us up the ladder. Spence loves a challenge, and he loves to challenge others. He has a "you can do it" attitude that has guided many people to achieve much more than they could ever imagine.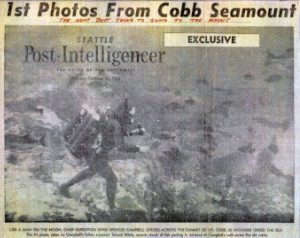 I am pleased, honored and extremely thankful that I've known Spence as my friend and mentor for more than 43 years. He is a true Diving Pioneer and a pretty good sea storyteller as well.
Thank You My Good Friend
Tom Hemphill
President
Bio-Sketch
Instructor U.S. Air force underwater search and recovery team. (1958 – Paine Air Force Base – Everett)
Graduate of the Coastal school of deep Sea Diving (1959)
Construction and repair diver. Hydroelectric dams. Bill Harris Divers Spokane Washington (1959-62)
Swam 557 miles (27 days) down Clearwater, Snake and Columbia Rivers to Astoria. OR. Later told in the Lewis & Clark and me book.
Director Diving Physiology Research Laboratory, Virginia Mason Research Center Seattle WA. (1968-1973)
Chief diver 1967 National Geographic Grey whale expedition. Baja, California. (Exploratory research on marine mammals)
Diving Supervisor Oceanographic Commission, Washington State "Project Sea Use" Nine scientific exploration missions to the Cobb Seamount. 75 dive hours on the top of the Cobb Seamount. (foundational research used over many years to im-prove ship design and important biological research).
Director, Bellevue Community College Scientific and Engineering Diver Certification Program and Instructor Shoreline community College Advanced Diver Consortium Program. (1973-1979)
Assistant Director Highline Community College Undersea Technician AAS Degree Program. (1977 – 1991)
Safety officer and Diving Instructor U.S. Corps of Engineers Diving Teams (consultant working to improve diving tech-niques and safety for divers) ( late 1980's)
Safety Officer and Diving instructor U.S. Bureau of Reclamation Grand Coulee – 1980's.
Engineer Dive Team and Hoover Dam engineer Dive Team
Safety Officer and Diving instructor Environmental Protection Agency western Regional Dive Team
Manager Diving Operations, Spanish Cove Resort, Grand Cayman Is, BWI. (1981)
Vice President and Diving Operations Manager, The Ocean Corporation, Houston Texas. Commercial Diving School, Oil pipeline repair, and Nuclear diving services. (1981-1986)
Technical Consultant to the Hanford Nuclear Reservation, Nuclear diving projects. Richland, Washington (1992-1993)
Developed and conducted "Secrets of the Diving Reflex" courses locally and nationally (1980's-1990's).
Sport Diving Service
Past President Washington Council of Skin-diving clubs.
NAUI Instructor for 35 years
Pacific Northwest NAUI ITC Course Director (5 years)
Director Pacific Northwest Diving safety Symposium (6 years)
Certified hundreds of Basic and Advanced SCUBA divers in the Pacific Northwest.
Lecturer for many sport diving seminars and regional diving clubs.
Conducted the first cold water undersea habitat program for the Pacific Northwest "Man in the Sound"
Developed and conducted "Secrets of the Diving Reflex Seminars"
Diving Service, Awards
Ten NAUI achievement awards
Bob baker Memorial award for diving safety
Washington state "Diver of the yYear" award
Pacific Northwest "Man in the Sea" award
Recipient of several diving awards from regional diving clubs for service to the sport diving community.
NAUI 50 year mentor award
NAUI North Pacific Beacon Award
Publications
(18) Publications in the national literature on Submarine medical research.
(22) Publications on Diving Instruction, Exploration diving and Sport diving.
Author of the book Lewis & Clark and Me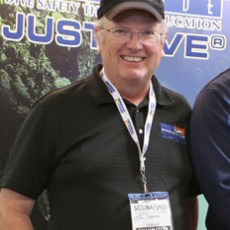 Jim Larson
My first dive experience was as Boy Scout in the local high school pool with a two hose regulator and a steel tank with a homemade backpack. The whole experience was less than 5 minutes but left a desire to do more.
I was taking flying lessons from a friend in Fairbanks Alaska when he announced that there would be no more lessons until he had a dive buddy. I explained to Bill that I could not go to the bottom of a pool without my ears hurting me – he asked if I knew how to clear – I then pointed out we were 400 miles away from the ocean and that it was cold – He said no more flying until I was certified. So I went to the local dive store and signed up for scuba. 8 weeks later we headed to a local lake and did our first dives. The only things of interest in the lake were thousands of mussels – after the first 100 or so they were no longer interesting. The second day we went another lake with a mud bottom and nothing to look at. I was ready to continue my flying lessons but no – Bill said we were going to Whittier on Prince William Sound to dive the following weekend. I complained that it would require taking 2 days off of work and diving 400 miles each way just to dive. He promised that we would return to flying once we did the dives in Whittier. After the weekend of diving in the ocean I lost any interest in learning to fly. Bill had a new dive buddy and I had found my avocation.
My dive Instructor was Jack Brownson – NAUI #1301 who owned Dolphin Too scuba in Fairbanks. Jack had moved to Fairbanks from Reno where he had been one of the owners of Sierra Diving. Jack asked if I would be willing to help out with the next class and in predicable fashion I was now the dedicated dive slave and protégé.
Jack died in a commercial dive accident – a victim of a "delta p" event that cost him and another diver their lives. Jacks girlfriend and I decided that we wanted to continue teaching scuba and running a dive store. She and I made an offer to purchase the store from Jacks estate and we were now in the scuba business. Now to become an Instructor. I found NAUI College in Laguna Niguel in CA and headed south to do a 14 day rescue, assistant instructor and Instructor course. Jim Hicks was the course director. Lavern headed to Halls in Marathon FL to do the same. LaVern and I – along with several friends ran Dolphin Too in Fairbanks until 1988.
In 1988 we relocated and moved the store to Vancouver WA. I became a NAUI Course Director in 1991 and ran my first ITC in Portland through Lewis and Clark College.
Dolphin Too was the focus of my diving. We taught scuba at all levels, ran trips to both cold and warm water. Lots of weekends were spent on the STARFIRE or the SEAWOLF out of Anacortes or on the SEA VENTURE in British Columbia. Warm water trips included Belize, Cozumel, Cayman, St. Croix, Bonaire, Thailand, Palau, Yap, Truk, Turks and Caicos Islands.
In 1996 I did my first of 7 summers as an Instructor for the Returning Student program for Aramco in Saudi Arabia. We taught scuba and ran dive excursions for the high school age children of American, Canadian, and British employees of Aramco. The highlight of each summer was a trip to the Red Sea and diving either out of Yanbu or Jeddah.
In 1999 I sold the retail portion of Dolphin Too and concentrated on just teaching.
In January 2011, I became the NW Territory Representative for NAUI. My duties include supporting retail operations in Northern California, Oregon, Washington, Alaska, British Columbia, Alberta, Montana, Wyoming, Idaho and Northern Nevada.
The most fun I have diving is teaching – at all levels. I enjoy teaching the basic students as well as working with new instructor candidates. The diving is still great and I enjoy both cold and warm water dives, but my greatest joy is teaching.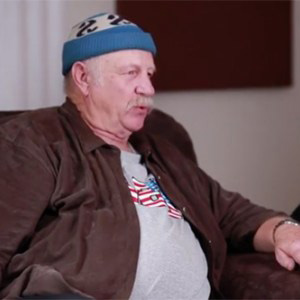 Brent Buddon
Brent Buddon began his diving career just out of grammar school, when a friend asked him to help him dive for sunken logs at an old sawmill.
Paul Schorzman interviews diving pioneer Brent Budden, reflecting on his lifetime of diving that began just out of grammar school, when a friend asked him to help him dive for sunken logs at an old sawmill. Click here to see the video interview.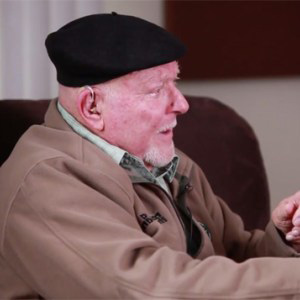 John Reseck
Becky Witty recently interviewed John Resect, Jr. with his reflections on a lifetime of diving which began in Southern California in 1945 when he was just 10 years old. He's logged more than 5,000 hours as a commercial diver and 10,000 as a recreational scuba diver.
Click here to see the video interview.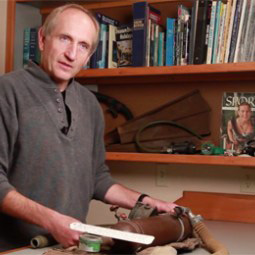 Chris Better
Chris shares some interesting pieces of dive gear from the early days of diving, and reflects on how he became interested in becoming a scuba diver. He later became a NAUI Instructor.
Click here to see the video interview.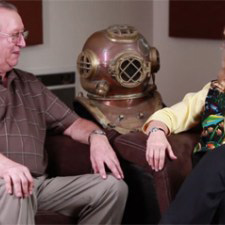 Tom Hemphill and Laurie Hannula
Tom Hemphill interviews Laurie Hannula, who began her diving career diving for pennies in her family's swimming pool. She was later certified as a scuba diver in 1977 through Underwater Sports. Tom shares his background in diving, which began with an interest in searching for treasure.
Click here to see the video interview.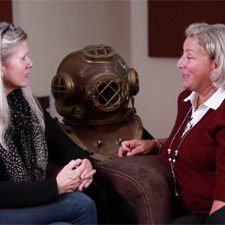 Becky Witty and Darlene Iskra
Becky Witty and Darlene Iskra recently recounted their experiences as two of the few women diving in the 1970's. Becky became a dive instructor in the Caribbean, while Darlene worked for the military.
Click here to see the video interview.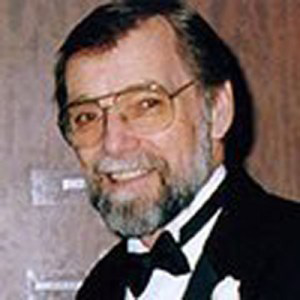 Jim Willoughby
Jim Willoughby is one of the most popular and prolific diving leaders in the North Pacific Region. He is a true diving pioneer and highly respected mentor to many sport and professional divers. Of course, he is also a master storyteller.
1949 at age 19, at the Central California coastal community, Carmel-by-the-Sea, Jim began his diving adventure with homemade diving equipment, no training, but lots of enthusiasm and a genuine sense of curiosity.
Jim made his way to British Columbia, Canada in the late 1950s and decided to stay. He became one of the most active and influential diving pioneers in the Northwest U.S. & Western Canadian. Jim taught thousands of beginning diving students. He also taught advanced diving and underwater photography.
Jim directed and served on staff of many NAUI Instructor Training Courses resulting in the certification of hundreds of new diving leaders. He was the first to teach an extended one year course for instructors; five days a week for one year.
One of Jim's most proud achievements as an instructor was developing special courses for deaf, handicapped and blind students. It's just amazing to witness people with special challenges adapt themselves to the underwater world with so much enthusiasm.
Jim devoted a lot of volunteer time and expertise to help build the diving industry. He served on the Board of Directors of N.A.U.I. Canada for several years and he participated as a search and recovery, public service diver for the California Highway Patrol for several years and later for the R.C.M.P. in BC, Canada.
Jim has been truly passionate with exploring the underwater world, but his primary passion for diving is underwater photography. If he couldn't take you diving with him, he could bring back photos of his world to show you.
Jim has been honored and recognized many times for his contributions and achievements in diving.
Recipient of N.A.U.I. Canada Medal (U.W. Canada Diving Achievement Award).
Man In The Sea Award (for outstanding service to the sport of scuba diving – 1981).
Received many national and international photo awards.
N.A.U.I. Grand Distinction, highest distinction award – 1978.
R.C.M.P. Award for unselfish, exploring, discovery and teaching which makes this planet a finer place in which to live.
Expo '86 award for specialized periods at Expo '86.
Some of Jim's fondest memories include:
Working with Cousteau Society dive team.
Working with Ron and Valerie Taylor, John Stoneman, Stan Waterman, and Jack McKenney, for National Geographic.
Demonstrating Can Dives DeepWorker one-person sub for National Geographic.
Dive team guide in many parts of the world.
Owning and managing three retail dive stores in Vancouver, British Columbia area.
Director and M.C. of Can Dives huge dive tank at Expo '86 (one of our best shows was a couple getting married under twelve feet of water).
Cinematographer for Canada's National Film Board.
Dive Club Organizer. "I have organized and started more scuba dive clubs than I can possibly remember. These were in Canada and the U.S.A."
Instrumental in creating many underwater parks in Canada and the U.S.A.
Very instrumental in creation of world's first underwater mermaid (9 foot bronze statue) in British Columbia, Canada.
Made several underwater movies and commercials.
Produced his own weekly TV show, "Divers Den" for two years.
Diving in many places around the world.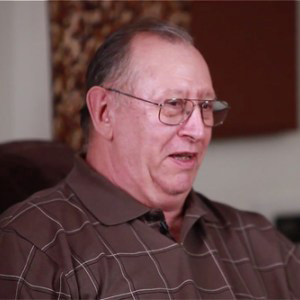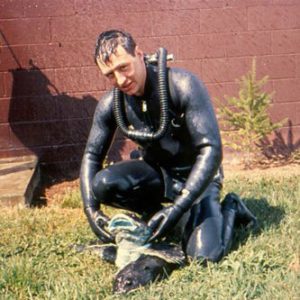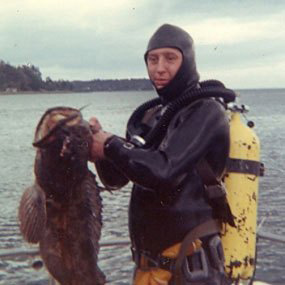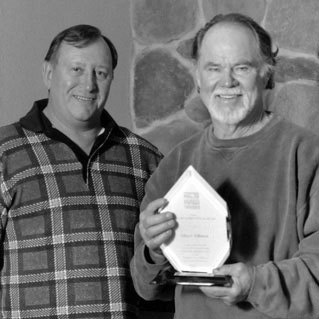 Tom Hemphill was attracted to the water and the underwater world as a very young boy. His father was a research biologist at Hanford, Washington where he conducted studies of the animals that lived near and in the Columbia River around the nuclear reactor reservation. His Dad was also an avid tropical fish breeder at home and Tom grew up watching the fish in the many aquariums around the house
In summer of 1959, at the age of 14, Tom experienced Scuba diving for the first time. He recalls that he felt no fear or concerns. Although he could not see much underwater in this rock quarry, not even another diver unless they bumped into each other, he enjoyed looking at the little snails and crawfish.
Through the 1960s, Tom made hundreds of sport dives from northern California to Canada, primarily spear fishing and food gathering. He made his first Columbia River commercial dive at the Vancouver, WA shipyards in 1966. He began assisting with dive classes in 1967. He got his first Nikonos underwater camera in 1969.
In 1971, Tom successfully completed a NAUI Instructor Certification Course and began his career as a Scuba Instructor. He taught classes for Aquarius Underwater Center in SW Portland for four years. Aquarius was built in 1971 and was the most professional diving center on the west coast. The facility had a deep indoor pool and large class classroom for training. The retail store was well laid out and well stocked. The primary theme for the store was training and travel. The owner, Gary Rubottom, was a former Aqua Lung (US Divers) sales rep and had a lot of experience diving in tropical destinations.
Tom founded Underwater Instructors, Inc. in 1974 and established a diving retail store and training facility in Vancouver, Washington. From 1971 – 1983, Tom trained more than 3,000 new divers. He also trained scores of divers to Master Diver and Leadership levels. He led numerous dive group vacation tours to many tropical destinations, including Hawaii, Micronesia, Mexico, Grand Cayman, Bahamas, and many other destinations from southern California to Alaska.
1983, Tom accepted a position with The Ocean Corporation in Houston, Texas. His mission was to develop a new Commercial Diving Specialist program for specialty dive teams, including scientific research, public service dive rescue, underwater investigation, marine engineering and inspection, underwater film crews, etc.
1985, Tom was hired by NAUI as a regional representative for Texas, Louisiana, Oklahoma, Arkansas, Mississippi and New Mexico. In 1986 he moved to NAUI Headquarters in California and assumed the position of National Sales Manager and Senior Business Consultant.
1987, Tom established Emerald Seas International, Ltd. 1988, he moved back to the Pacific Northwest. While still working for NAUI as a contract consultant, and managing the Commercial Diving Specialist programs, Tom focused on training Scuba Instructors and assisting dive stores with their new business start-ups and marketing.
1989, Tom organized a pilot dive destination program for a resort in the San Juan Islands, on Orcas Island. After one successful season, he decided to move the operation to Friday Harbor on San Juan Island and in 1990, he and his wife Linda moved to Friday Harbor to run their new venture, Emerald Seas Diving & Marine Center.
1995, Tom was elected to the NAUI Board of Directors. He served on the board for eight years and was an officer every year, including Chairman of the Board in 2002.
1999, after 10 years of operating Emerald Seas Diving & Marine Center, Tom & Linda decided to sell the business. Tom continued to focus on NAUI Instructor development and business consulting.
Tom lived through the years of diving development. His passion is in education and the preservation of diving history related to the people who pioneered diving.
Tom's Interest in Preserving Diving History
When I began diving in 1959, we did not have submersible pressure gauges, buoyancy compensators, integrated weight systems, etc. We did not have a formal, organized and standardized Scuba training program available to us. I read The Silent World, by Jacques Cousteau, and learned about diving techniques from that. Then I went underwater.
I have lived through the evolution of sport diving and diving education for the past 50 years. I still have the first new regulator that I bought in 1966. I started diving with a well-used regulator that I got from a former Navy diver.
I began collecting old diving equipment, books and other memorabilia more than 40 years ago. I have a modest collection of diving equipment dating back to the 1940s.
My primary interest is preserving the stories of the people who pioneered Scuba diving. I especially would like to document events and contributions to the development of diving that honor the many common people who made a difference.
I believe that the success of the diving industry is directly related to the quality in diving education. I would like to focus my efforts on documenting and presenting the stories of the many Scuba instructors that devoted their lives to training people to enjoy the underwater world.
Many of these "unsung heroes" are not well known throughout the greater diving industry. But they are local celebrities.
There are hundreds of diving educators who devoted many years to improve diving educational techniques, develop specialty diving programs, guide divers to experience new adventures, and motivate divers to move on to become educators and other diving professionals.
Teaching diving and mentoring people who are pursuing business and careers in diving have been Tom's primary passion.
My plan for my personal contribution to the NW Diving History Association is to seek out the diving leaders of the past and get their stories and photos. I believe that the true history of diving is with the people.
Tom Hemphill
NAUI Instructor 2491