In the early days of diving, local divers banded together to build gear, share stories, share skills and techniques, and explore the ocean together. Some of these clubs, dating back to the early '60s, still exist today. Below are a few of those who made their mark in the Pacific Northwest.
If you know of a dive club that should be listed here, or have additional information about the clubs shown below, please let us know so that we can share the history.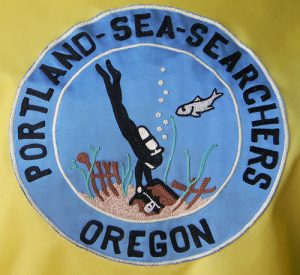 Portland Sea Searchers
The Sea Searchers of Portland were formed by diving instructor Pete George in 1963. For the first three years (63 – 65) the club met at Mr. Carol Godat's dive shop on NE Union Avenue Portland Oregon. Godat's shop closed in 1965 and all of the records about the first three years of the club were lost. After Godat's shop closed Pete George opened Hollywood Sea and Ski which became the new home of the Sea Searchers. When Hollywood Sea and Ski closed the club members decided they would be an independent club without an affiliation to any one dive shop. The Sea Searchers first independent meetings were held in then club president Bob Albecht's newly remodeled basement.
Portland Sea Searchers is an active Portland, Oregon dive club to this day. Today the club meets at Don McCoy's Veterinary hospital on Lombard in North Portland. Don joined the Sea Searchers in 1971 and has held every office in the club at least once. Other long time members include Louie Szabo who was one of the original members and Ken Lyttle who joined the club in 1968. Seven of the members shown on the club's rolls for 1975 are still on the club's rolls today. The Sea Searchers is a family club with many of today's members being children and grand children of early members.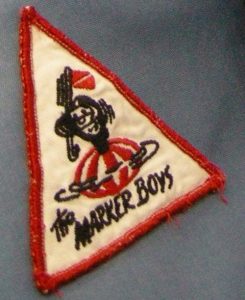 Marker Boys Dive Club
Seattle, Washington: 1961 – present
Marker Buoy Dive Club traces its roots to 1961 as a shop-sponsored dive club in Ballard, WA. The club was founded by John T. Miller, who together with his wife Alma, owned and operated the Marker Buoy dive shop in Ballard. The club was originally called "The Marker Boys" because in the early 60s, scuba diving was a male-dominated sport and the membership was entirely male.
However within a few years, the club name was changed to "Marker Buoys" as more women became interested in scuba diving and joining the club, and also to more closely identify with the business name of the shop. The original Marker Buoy dive shop closed in the late 60s for reasons lost to history. Marker Buoys continued as a shop-sponsored club with Lighthouse Diving until 1987, then with Underwater Sports until 2007, when it became an independent dive club.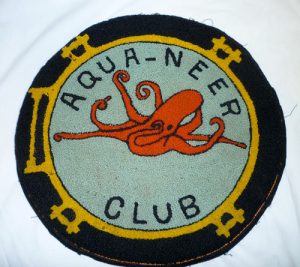 Aqua-Neer Dive Club
Camas, Washington: 1954 – 1979
By Tom Hemphill
Ed Palamounter, a former Navy UDT diver (Frogman) in WWII, founded the Aqua-Neer Dive Club in the early 1950s. Ed was enthusiastic about diving and he was a master teacher.
Ed had no desire to make a living from diving. He simply wanted to share his skills and knowledge with anyone that wanted to learn to dive. Diving and mentoring were his passions. His career after leaving the Navy was back in his local community of Camas, WA working at the Crown Zellerbach paper mill.
The Aqua-Neer Club focused a lot on local diving adventures in the lakes and rivers. Meetings were held at a small community center in Camas. Each month the club had some sort of diving event. Sometimes it was a local dive in the Washougal River, or a trip to the Oregon coast or Puget Sound.
Some of the diving events were pretty exciting, such as the annual "drift the Washougal River at high water" on New Years Day. We even got some photos and stories in the local newspaper when we engaged in this foolhardy adventure. We had wet suits to battle the 36 degree water, inner tubes, masks and fins, and we went for a wild ride for about three miles of mostly white water.
Why did we do this? Just because we could, I guess. The main thing was that we were doing fun stuff together as a club.
At other times of year, when the river flow was down, we would drift the river and gather fishing lures to sell back to the steelhead and salmon fishermen / women and we made some money for the club.
In May we liked to organize clean-up dives in several popular swimming areas. We would gather at a local swimming hole, scrounge around the bottom and drag up debris. We always found fishing line, bottles, cans and other stuff, and sometimes a treasure as well.
The club organized many daily and weekend, three-day holiday weekends were popular, dive trips to Puget Sound, San Juan Islands, Canada boat dives, and the Oregon coast. There were always several non-diver family members to assist with photos, food, and diving gear. These events were always a lot of fun.
One primary feature of this club, as with many dive clubs, was the mentoring provided by the more experienced divers that took the beginners under their wings and guided them to greater challenges. Here I learned that I needed to focus my diving on the limitations and experience levels of newer, and less bold divers.
Many of these new divers that I was fortunate to guide along, went on to become very accomplished divers, some professionally. Chris Betcher from Camas, now living on Orcas Island, is a good example. After training and mentoring Chris in the beginning, we became good friends. About 18 years after we first met, I had the pleasure of training and certifying Chris as a NAUI Instructor and then working and diving with him for more than a decade in the San Juan Islands.
Each year was a little different, but there were always events and people to dive with.
Bill Weiss, a Camas mail carrier and avid diver, set up a compressor at his house. He also made some great home made wine. We were not in any hurry to get tanks filled and we were happy to listen to Bill's stories, wait for the tanks to fill, and sip some blackberry or rhubarb wine.
Several club members learned some rescue and recovery skills and we worked with the sheriffs department to provide river & lake rescue when needed. Usually by the time the divers were able to get to a scene, it was a recovery mission, and too late for rescue. However, one day in the late spring, Bill Weiss and I were in the Washougal River diving a deep, still-water spot looking for fishing lures when a sheriff's deputy got our attention.
We followed the deputy a mile up the river where two fishermen in a drift boat were trapped on a large rock in the middle of the river. I went upstream with one end of a rope and swam out in the current to get out far enough to get the rope to the fishermen.
I think that this was another "fearless & clueless" adventure, or I thought I was superman or something.
I didn't make it out far enough before I flew past the boaters in the swift current. I held onto the rope and Bill swung me back to shore. The next attempt was a lot farther upstream and I made it that time. That's when the real fun began.
I tied the rope to the boat and the beach crew got the other end tied tight to a tree. Bill came out along the rope to assist. Between us we were able to rescue both fishermen successfully. Later we made some recovery dives downstream to retrieve tackle boxes and other items that washed out of the boat. The guys were happy to get some of their gear back.
With the change in times and the requirements for official diving certification cards, the classes at the club came to a halt. Ed was the primary teacher and he was not willing to get a NAUI or PADI Instructor certification. He also did not want to make teaching diving a business. By the late 70s, the dive club was inactive and Ed was ill with cancer. We lost Ed and the club disbanded in 1979.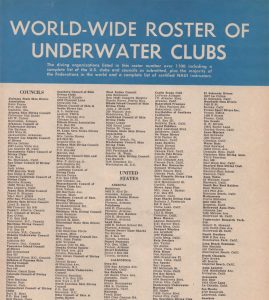 World-Wide Roster of Underwater Clubs
The 1963 issue of Skin Diver Magazine lists over 1100 diving clubs and organizations.